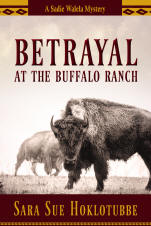 BETRAYAL AT THE BUFFALO RANCH
The University of Arizona Press
Sadie Walela has sharp instincts, close ties to her Cherokee community, and a deep connection to the land. When she learns that her new neighbor, Angus Clyborn's Buffalo Ranch, offers rich customers a chance to kill buffalo for fun, she is horrified. No good can come of this, she thinks. She quickly discovers that Angus and a recent murder victim share a violent history, but Deputy Sheriff Lance Smith can find little evidence connecting Angus to the crime.

Sadie uncovers other troubling information: Angus has been bullying and swindling Cherokees out of their land, and now he's lying about the disappearance of a rare white buffalo calf from his ranch. Her suspicions and fears escalate when a former schoolmate finds employment at the ranch. Will Sadie's friend be the next victim?
Drawn deeper and deeper into danger, Sadie uncovers an unparalleled web of greed and corruption. It will take all of her investigating skills to set things straight—assuming she and her wolfdog can stay alive long enough to succeed.
---
"When a fascinatingly disagreeable character is killed by rifle shot, the challenge for Lance and Sadie is sifting through the range of characters who had diverse and compelling reasons to want him dead. Betrayal at the Buffalo Ranch races to a climax like a stampeding herd and leaves the reader simultaneously satisfied and wanting the next Sadie Walela story. Sara Sue Hoklotubbe gets better with each book; Betrayal at the Buffalo Ranch is her best yet."
—Anne Hillerman, author of the New York Times best-selling Leaphorn, Chee, and Manuelito mysteries

"Betrayal at the Buffalo Ranch is a fast-moving and suspenseful mystery that unfolds in a contemporary Native American community that contains people like Sadie Walela and her boyfriend Lance Smith, people who become heroes because sometimes heroes are what's needed."
—Thomas Perry, author of The Bomb Maker

"A compelling, tautly written, and hard-to-put-down mystery. Betrayal at the Buffalo Ranch takes you into the lives and culture of modern-day Cherokees, all while keeping you guessing and turning the pages until the very end. Sara Sue Hoklotubbe just gets better and better."—Margaret Coel, New York Times best-selling author of Winter's Child
---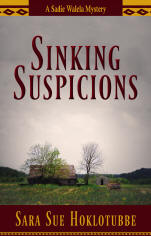 SINKING SUSPICIONS
The University of Arizona Press
Suspicions run high when murder mixes with identity theft in the latest installment of the popular Sadie Walela mystery series set in Cherokee Country. No sooner does Sadie embark on an unexpected business trip to the beautiful island of Maui, when her long-time neighbor, Buck Skinner, a fullblood Cherokee and World War II veteran, goes missing and becomes the prime suspect in the murder of a petty identity thief.

Iconic lawman, Lance Smith, joins a community-wide search, but Buck is nowhere to be found. As evidence mounts against her old friend, Sadie rushes to return home to help – only to be delayed by an island-wide earthquake and her own sinking suspicions.

A diverse cast of characters weave together a breathless story of murder, thievery, and the toll of war on the human spirit. In her effort to restore balance to her neighbor's life, Sadie not only uncovers the truth, but unravels much more than a murder.
---

Sara Sue Hoklotubbe's Sinking Suspicions will weave its way into the tapestry of your literary life with characters that will charm you, frighten you, and best of all surprise you—one heck of a good read."
~Craig Johnson, New York Times Bestselling author of the Walt Longmire Mysteries and the basis of A&E's hit drama Longmire


"Action, romance, and even bit of World War II history combine to make Sinking Suspicions a memorable story that leaves readers satisfied—and with a grin on our faces."
~Anne Hillerman, Author of the New York Times Bestselling Spider Woman's Daughter

"Another intriguing mystery from a gifted story teller. With a sure hand, Sara Sue Hoklotubbe ratchets up the suspense while exploring the myths, passions and fears of modern-day Cherokees. If you haven't yet caught up with this author, Sinking Suspicions is a fine place to make her acquaintance."
~Margaret Coel, author of the Wind River mystery series.
---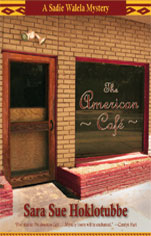 The American Café
The University of Arizona Press
ISBN 978-0-8165-2922-3

When Sadie Walela decides to pursue her childhood dream of owning a restaurant, she has no idea that murder will be on the menu.

In this second book in the Sadie Walela series, set in the heart of the Cherokee Nation, Sadie discovers life as an entrepreneur is not as easy as she anticipated. On her first day, she is threatened by the town's resident "crazy" woman and the former owner of The American Café turns up dead, engulfing the café – and Sadie herself – in a cloud of suspicion and unanswered questions.

Drawing on the intuition and perseverance of her Cherokee ancestry, Sadie is determined to get some answers when an old friend unexpectedly turns up to lend a hand. A diverse cast of characters, including a mysterious Creek Indian, a corrupt police chief, an angry Marine home from Iraq, and the victim's grieving sister and alcoholic niece, all come together to create a multilayered story of denial and deceit.

While striving to untangle relationships and old family secrets, Sadie ends up unraveling far more than a murder.
---
Harlan McKosato of the national radio talk show Native America Calling says "Hoklotubbe's writing is like fine wine . . . DECEPTION ON ALL ACCOUNTS was good, the sequel, THE AMERICAN CAFE is even better." To listen to the entire interview go to http://www.nativeamericacalling.com/nac_past.shtml#feb and scroll down to Wednesday, February 23, 2011– Book of the Month: The American Café
---
Great characters and an authentic Native American setting (Oklahoma's Cherokee country) make this second series title a good pick for Tony Hillerman fans.
~ Library Journal
An absorbing mystery that draws the reader into the rich history, culture and landscape of Cherokee Country. The American Café has all of the twists and turns expected in a first-rate mystery, but those are only part of its charm. A gifted story teller, Sara Hoklotubbe writes of family, the fragile ties that bind people together and the links to the past that are always just below the surface of things. Compassionate and wonderful!

~Margaret Coel, author of The Spider's Web.
The American Cafe is an intriguing, well written, carefully paced mystery. Sara Sue Hoklotubbe does an excellent job of depicting the people of Liberty and the complexities of small town life in a world where families, law enforcement, whites and Native Americans don't always get along.

~Judith Van Gieson, author of the award winning Neil Hamel Mysteries series.
Five stars to The American Cafe, a riveting and lyrical novel. Sara Hoklotubbe draws on her Oklahoma and Cherokee heritage to create an absorbing tale with an appealing protagonist. Mystery lovers will be enchanted.

~Carolyn Hart, author of Letter from Home
The American Café has an intriguing murder on its menu because Sara Sue Hoklotubbe has mastered the craft of cooking up an intriguing mystery while bringing alive the multi-cultural complexities of contemporary Indian Country life in small town Oklahoma in her Sadie Walela mystery series.

~D.L. Birchfield, author of Field of Honor
---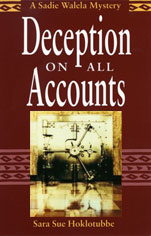 DECEPTION ON ALL ACCOUNTS
The University of Arizona Press
ISBN 978-0816523115

Is murder always a simple transaction? Don't bank on it.

Sadie Walela's life is about to be turned upside down.

Sadie is a blue-eyed Cherokee living in northeastern Oklahoma, a half-blood who finds she sometimes has to adapt to get by in the white man's world, much as her father's ancestors did. In this story of robbery, murder, love, and intrigue, she faces adversity at each bend in the road, but in the tradition of her people she adapts and moves forward--even if it means having to re-think her relationships and expectations.

Set against the backdrop of small-town Oklahoma and its Native culture, "Deception on All Accounts" draws readers into the real lives of contemporary American Indians as it shines a light on violence, corporate corruption, and prejudice in modern America. As Sadie Walela comes to terms with murder, romance, and her hopes for a career, she finds deception on all accounts.

---
"Sara Sue Hoklotubbe takes a fresh plot idea, adds her clear-eyed Cherokee view of tribal thinking and small town Oklahoma banking, and gives us a dandy mystery novel. Don't miss it."
~Tony Hillerman

"Seldom have I read a novel that I enjoyed this much. The book is written with a tight, fast-paced style that engages and holds the reader throughout."
~Louis Owens

"Deception on All Accounts is an impressive debut. Sara Sue Hoklotubbe is a skillful writer with a fine eye for the details that bring characters and settings to life. "
~Judith Van Gieson
Read More Reviews of Deception On All Accounts